SEMINAR PRESENTATIONS, APPEARANCES, SCHEDULE & BOOKING INFORMATION
Winter Tour A Huge Success
AS THE LEADING, REQUESTED, & POPULAR LIVE ENTERTAINERS, OF THEIR KIND, IN THE OUTDOOR WORLD!
If you haven't attended one of Guy & Dan's Audio Visual, Hi-Impact Presentations, you have missed the Entertainment & Education that may have brought you the good times & success which hundreds of thousands of attendees have experienced over More Than Three Decades! With 86+ Years of combined experience, Guy and Dan perform what has been said as some of the Best Presentations in the History of Outdoor Sports!  Guy & Dan's Presentations are of the most energetic, hilarious, heart touching, and sometimes tear jerking presentations of their kind in the entire world of hunting!  It's not just that the presentations are so dynamic and heartfelt, but afterward Guy & Dan stay and hang out with the attendees, sometimes for several hours, mingling, signing autographs, taking pictures, laughing, cutting up, and just plain having fun in a personal type of setting!  Guy & Dan truly are two guys with likable, down home personalities that just about everyone can relate to!  Once you've attended a Team Fitzgerald™ Presentation Experience, you'll never be the same again!  Here are just a few photos of some recent events!  You'll notice lots of smiling faces!  That's a good thing!  Enjoy!
ATTENDEES ARE SURVEYED AT THE EVENTS.  AS AN AVERAGE, 98% OF THOSE SURVEYED SAY TEAM FITZGERALD™ SEMINARS ARE THE ALL AROUND BEST THEY HAVE EVER SEEN!!!



"I remember a particular time, while heading to a presentation, a hardcore blizzard arose about half way there.  It was a true white out condition, with only about 100 feet of visibility.  We were sliding all over road, but we were not going to turn back.  There was a sold out group of die-hards, waiting for us to come and share our love of hunting with them!  As we called ahead to see how the weather was at the event, a few hours up the road, the encouragement we received over the phone was overwhelming.  We finally made it, under God's protection.  It was an event to remember.  Everyone had a ball, as we interacted with the folks from the stage, and shared our hunting adventures with them on our DVD.  Afterward, we mingled with the wonderful fans for a couple hours.  We had the privilege of meeting new folks and hearing some great hunting stories!  We shook hands, took photos, and signed hats and shirts.  It was great.  This is, by far, my favorite part of what we do, meeting all of our supporters in person, and just being a bunch of regular guys hanging out and talking about hunting!  We are so blessed!"  - Guy Fitzgerald

| | |
| --- | --- |
| When 'Big D' talks, everyone can learn something new! | Why Do We Hunt?  This, and many other questions are asked of the audience, throughout the presentations, with a variety of different answers given! |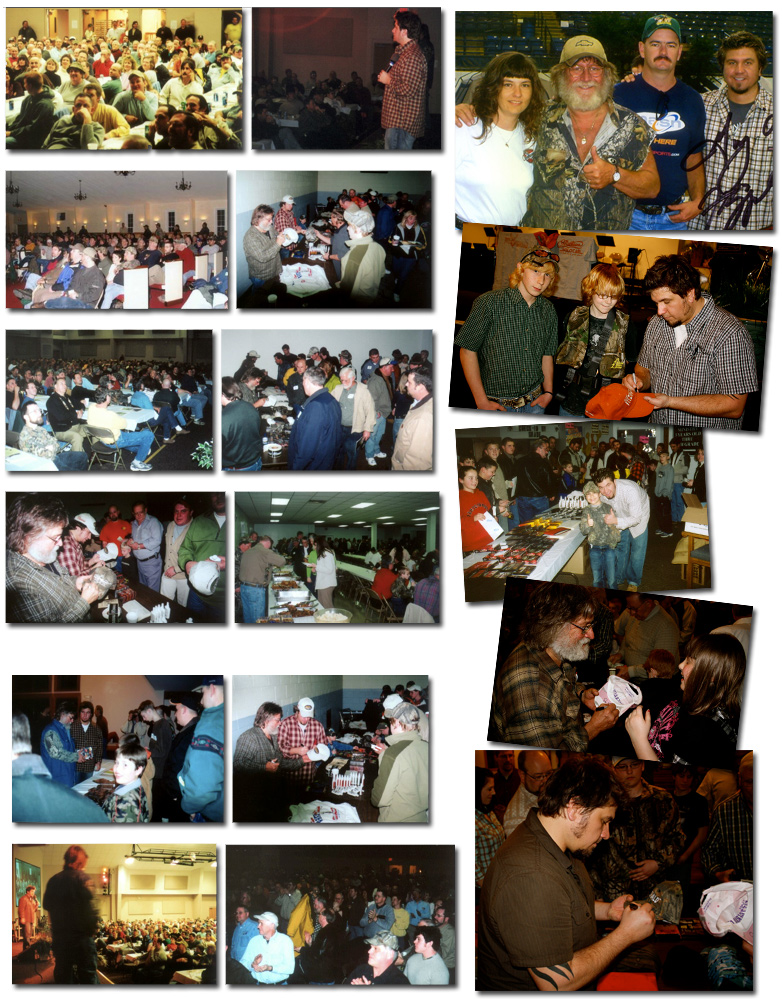 ---
BOOKING
For more information on booking a Fitzgerald High Impact Audio Visual Seminar Presentation at a Church/Game Dinner, School, Trade Show, Etc.  Or Maybe A Personal Appearance, Store Promotion, Etc. with Dan and Guy, please let us know, and we will be happy to assist you!
TO RECEIVE A FITZGERALD SEMINAR PRESENTATION PORTFOLIO:
PLEASE INCLUDE THE FOLLOWING INFORMATION IN YOUR E-MAIL:
YOUR FIRST & LAST NAME

THE NAME OF THE ORGANIZATION YOU REPRESENT

PHONE NUMBER

PHYSICAL SHIPPING ADDRESS

THE MONTH AND YEAR YOU WOULD LIKE TO BOOK

A BRIEF DESCRIPTION OF THE EVENT

HOW MANY YEARS YOU HAVE HAD THE EVENT, OR FIRST YEAR

WHO YOU HAVE HAD AS GUEST/KEYNOTE SPEAKERS IN THE PAST

WHAT YOUR ATTENDANCE GOAL IS

WHAT YOUR OVERALL GOAL FOR THE EVENT IS
UPON OUR RECEIPT & REVIEW OF YOUR E-MAIL, WE'LL BE HAPPY TO SEND YOU A PRESENTATION PORTFOLIO!
THANKS SO MUCH FOR THINKING OF US!